TCNJ On-Campus Professional Development (2018-2019)
To subscribe to our calendar of events:
right click on this link and copy link location or address
add a new calendar in your calendar program and paste the link from above
Lunch and Learns
Lunch and Learns provide participants an afternoon professional development session on a variety of topics. These sessions are facilitated on the TCNJ campus and featuring a working lunch. All participants receive 3 CEUs for each session.
Using Visual Literacy to Enhance Reading Comprehension Instruction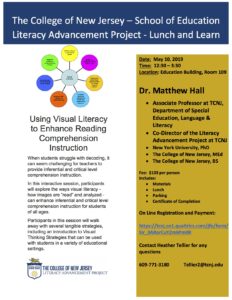 Registration Link
May 10, 2019
Commercial Programs Professional Development
Sentence Structure – Applied Writing (December 4-6, 2018 or May 28-30, 2019)
Wilson Reading System – Registration Link:

Fundations Level K (February 18 or May 13, 2019)

Fundations Level 1 (February 19 or May 14, 2019)

Wilson Reading System – Introductory Workshop

(February 18-20, 2019 or May 13-15, 2019)