TCNJ On-Campus Professional Development (2019-2020)
To subscribe to our calendar of events:
right click on this link and copy link location or address
add a new calendar in your calendar program and paste the link from above
Lunch and Learns
Lunch and Learns provide participants an afternoon professional development session on a variety of topics. These sessions are facilitated on the TCNJ campus and featuring a working lunch. All participants receive 3 CEUs for each session.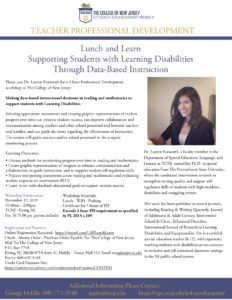 Supporting Students with Learning Disabilities Through Data-Based Intervention
November 15, 2019
Register at: https://tinyurl.com/LAPLunchLearn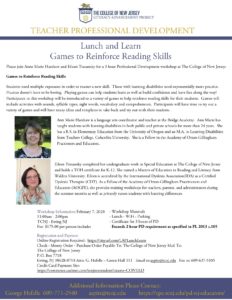 Games to Reinforce Reading Skills
February 7, 2020
Register at: https://tinyurl.com/LAPLunchLearn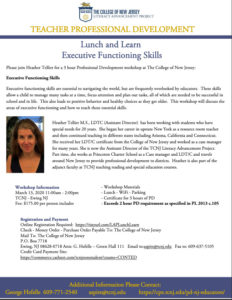 Executive Functioning Skills
March 13, 2020
Register at: https://tinyurl.com/LAPLunchLearn
Commercial Programs Professional Development
Commercial Program Professional Development Sessions provide participants an in-depth study of targeted programs. These sessions are facilitated on the TCNJ campus.
Project Read® Written Expression and Paragraph Writing – K-12
The curriculum teaches the fundamentals of sentence writing. This curriculum uses 8 unique graphic symbols to illustrate the sentence parts and their function. The instructional strategies blend creative freedom and accuracy with direct multisensory skill instruction. The Project Read® Written Expression curriculum teaches the fundamentals of sentence writing and paragraph development.
Sentence Structure and Applied Writing June 9 – 11, 2020 – 3 days
Sentence Structure Only June 9 -10, 2020 – 2 days
*Paragraph Writing Only June 11 – 1 Day. *Sentence Structure is a prerequisite
Project Read® Report Form Process (3rd to Adult) curriculum teaches students a systematic multisensory process for interacting, analyzing, systematizing, classifying and organizing informational text for higher-level thinking and test-taking. Report Form March 10 -11, 2020 – 2  days
Project Read® Phonics curriculum applies sound/symbol knowledge to spelling and reading comprehension using targeted multisensory activities and direct instruction. Phonics February 25 – 27, 2020 – 3 days
The Project Read® Linguistics (3rd to Adult) curriculum is an accelerated phonics program tailored for grade 3 through adult learners. This multisensory curriculum builds upon prior knowledge through a sound/symbol organization chart that displays the 44 speech sounds and their alternative spellings. Report Form March 3 – 4, 2020 – 2  days
Register for all Project Read workshops at: https://tcnj.co1.qualtrics.com/jfe/form/SV_bIskljzplrTI4yp
thinkSRSD Build Social-Emotional Learning & Critical Thinking Via Writing: Structured Writing Instruction that Works
Discover easy-to-implement and time-efficient ways to revolutionize and re-inspire how you teach writing, based on recent empirical studies and brain research. December 12- 13, 2019 – 2 days
Register for SRSD workshop at: https://tcnj.co1.qualtrics.com/jfe/form/SV_6hg0buLbGQB520B
Annual Conference
Our Annual Conference is a one day event featuring experts on a variety of topics. The morning session is a keynote address that fulfills the yearly, two hours of dyslexia training required by the State of New Jersey. The afternoon breakout sessions address a variety of topics and instructional needs. The conference takes place on the TCNJ campus. All participants receive CEUs for each session attended.
This year's conference will be hosted on December 6, 2019 from 9:00am-3:00pm.  Dr. Doug Fuchs and Dr. Lynn Fuchs will be this year's keynote speakers. Their presentation, "Taking Stock: 15 Years of Research and Practice with RTI and MTSS," will be followed by a town hall question and answer session on "Meeting the Needs of all Students: Is it Possible?" This keynote will fulfill New Jersey's required Dyslexia Professional Development. Afternoon breakout sessions include emergent literacy for students with complex disabilities, accommodating striving readers in tier 1 instruction, and critically reading images in grades 6-12.
Register today at: http://bit.ly/TCNJConference19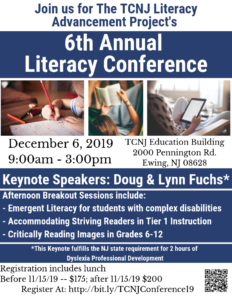 Afternoon Breakout Sessions: 
Answering the WHY: Purposeful and Engaging Literacy Strategies to Replace Test Prep – Grades 6-12
Presenter: Dr. Maureen Connelly
When our students ask, "Why do we have to learn this?" We should have an answer that goes beyond having to be prepared for a test. Rather, students should be learning skills that they can transfer to what matters most to them. In this fast-paced, interactive session, you will learn 10 engaging strategies that support students development of literacy skills and their understanding of how they can use these skills to change their world. Practical ideas that you can implement when you return to your classrooms and inspiration are guaranteed!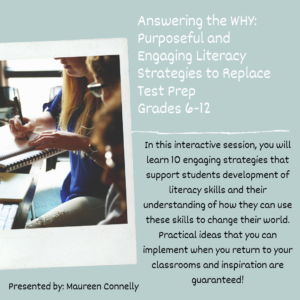 Reading Images Critically in Grades 6-12 
Presenter: Dr. Anne Peel
How can we engage adolescents with diverse literacy abilities in critical reading that builds their analytical and compositional skills? One approach is to teach students how to read pictures and image-based narratives with the same complexity and depth that we read linguistic text. This presentation will explore how the grammar of visual design can reintroduce readers (particularly older readers who have experienced frustration with linguistic text) to the joys of literary analysis.  We will examine how applying a counternarrative lens to children's picture books can make literary theories accessible to middle and high school students and how wordless picture books can excite students own writing efforts. The presenter will model a variety of practical tools and approaches and share several high-quality multimodal texts that are appropriate for middle and high school readers.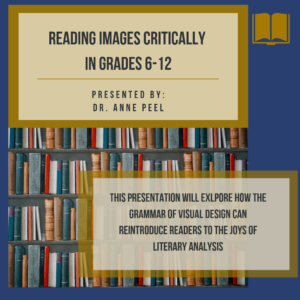 Challenges in Accessing Literacy in Children with Complex Disabilities
Presenter: Angel Perez
Children with complex disabilities are often presumed to be incapable of accessing and participating in literacy instruction.Children who have physical limitations, sensory disabilities, limited cognitive disabilities and minimal communication skills are typically deprived of meaningful experiences and incidental learning which is the foundation to literacy activities. Children with complex disabilities often face low expectations and educators struggle with providing balanced emergent literacy requiring a variety of materials, strategies and differentiation. The aim of this presentation is to provide an understanding of the various challenges, strategies and supports to implement successful and meaningful literacy instruction for children with complex disabilities.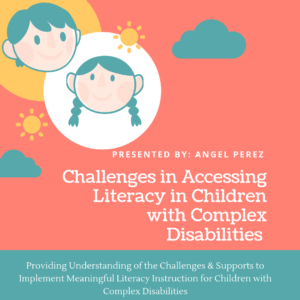 Accommodating Striving Readers in Tier 1 Instruction
Presenter: Dr. Helene Anthony
In this session we will explore how to plan instruction for the general education classroom using principles of universal design and differentiation to facilitate content learning and improvement in literacy for students who are below grade level in reading.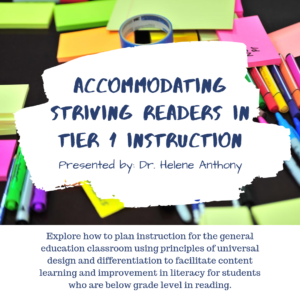 It's Not About Grit: Supporting Student Behavior Through Trauma-Informed, Cross-Cultural Understanding
Presenter: Dr. Lauren Shallish
In this session, participants will explore and critique the concept of "grit" and how it has been applied in schools. An alternative framework for supporting student behavior that draws on trauma-informed, cross-cultural understandings will be presented as an alternative.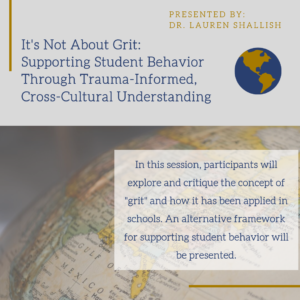 Executive Functioning Skills
Presenter: Heather Tellier
Executive functioning skills are essential to navigating the world, but are frequently overlooked by educators. These skills allow a child to manage many tasks at a time, focus attention and plan out tasks, all of which are needed to be successful in school and in life. This also leads to positive behavior and healthy choices as they get older. This workshop will discuss the areas of executive functioning and how to teach these essential skills.