For some upcoming professional development opportunities click here
The College of New Jersey
Education Building 105B
2000 Pennington Road, Ewing, NJ 08628
Phone: 609-771-3180
Email: lap@tcnj.edu
Co-Directors: Lauren Foxworth and Matthew Hall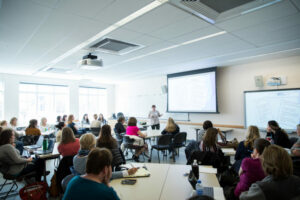 Our Commitment
We believe educators are life-long learners and professional development is critical to sustaining learning. The most effective professional development is differentiated and tailored to the needs of participants. The TCNJ Literacy Advancement Project offers a variety of professional development opportunities designed to meet the needs of learners, including monthly lunch and learns, an annual day-long conference at TCNJ, a variety of commercial workshops, and differentiated on-site PD upon request.
Who do we work with?
General Education Teachers, Special Education Teachers, Basic Skills Teachers – We work with teachers to integrate best practices in literacy instruction. We focus on providing teachers with the the right levels of support and modes of professional development.
Literacy Coaches and Reading Specialists – We work with literacy coaches and reading specialists to refine their expertise in supporting educators who are implementing literacy instruction in the classroom.
Administrators – We work with administrators during the research and planning phase of implementing instructional change to provide expert input and guidance as well as professional development on the implementation of literacy instruction.
Parents – We work with parents to provide insight as they advocate for the instructional supports their children need.
What does our PD look like?
To provide differentiated professional development means varying the format of delivery as well as tailoring the content for the specific needs of schools. Through consultation, we not only work to determine the content of the professional development but also the format – including combinations of workshops, study groups, lab classroom experiences, in-classroom coaching, and institutes.
We can work with you to tailor professional development on topics including (but not limited to):
Language Acquisition for English Language Learners
Implementing Reading and Writing Workshop
Instructional Methods for Struggling Learners and Learners with Disabilities (e.g, Explicit Instruction, Self-Regulated Strategy Development)
Targeted Word Study
Structured Literacy
Differentiating Literacy Instruction in Tier 1 and Tier 2 instruction
Best Practices for Co-Teaching
Disciplinary Literacy
Digital Literacy
Formative and Diagnostic Assessment Practices
Screening for Dyslexia
Progress Monitoring and/or Data-Based Decision Making
Contact us at lap@tcnj.edu