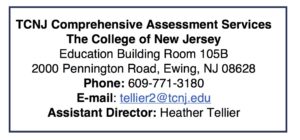 TCNJ's Comprehensive Assessment Services were created to better assist the community in identifying and supporting the strengths and instructional needs of all students. Our assessments are conducted by a group of certified experts who offer literacy evaluations, psycho-educational evaluations, social histories, and speech/language evaluations. Services are provided to individuals ages three and up, including adults. Our professionals offer individualized testing in a safe and caring environment and are state certified evaluators.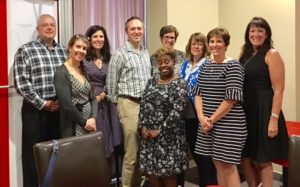 Dr. Hall, Dr. Foxworth, and Assistant Director Tellier with our Assessment Team
Our assessment process is extremely comprehensive and typically includes several evaluations conducted by various individuals. This is to ensure that the process is individualized for each person. Both standardized and functional tests are administered based on a profile. The process considers each individual's specific strengths and areas of need. A highly comprehensive, written report is provided for every person, along with detailed recommendations explaining individual strengths and needs.  After the assessment is completed, the assistant director of TCNJ Literacy Assessment Services will meet with you to explain results and recommendations as well as answer any questions you may have.
The battery of assessments is individually designed to address areas of concern, but all assessments contain:
A detailed developmental history that addresses academic, physical, and social development.
A thorough review of all school reports, previous evaluations, and other data regarding the individual's academic, medical, and social development
Observations of the individual in his/her current classroom environment (if applicable); interviews with relevant school personnel; teacher and parent input in the form of questionnaires, rating scales, or classroom assessments
If applicable and with consent, interviews with the individual's tutor, therapist, or other professionals who can provide relevant data
A formal evaluation consisting of an individually administered battery of tests to measure intellectual ability, perceptual and perceptual-motor functioning, language and processing skills, academic achievement, visual and auditory memory, attention and concentration, and social/emotional adjustment. This evaluation may take place over multiple sessions in order to obtain an accurate representation of an individual's current functioning.
A feedback session to discuss the results of the evaluation and a detailed, written report that includes recommendations will be provided.
Many parents worry when their child experiences difficulties in school. There are many possible causes of school challenges. A comprehensive assessment can help parents better understand their child's strengths and needs and guide them in meeting needs at home and in school. In other words, information gathered during the assessment can provide parents with strategies for supporting effective learning to help make school a successful experience for their child. A comprehensive assessment also yields data that may help parents obtain special education services for their child.
TCNJ's Comprehensive Assessment Services provides evaluations throughout the school year and summer, working with school districts, community organizations, and parents.
We offer Dyslexia Assessment Services in both Spanish and English. Please contact us at lap@tcnj.edu for more information regarding testing for Dyslexia in Spanish.
Ofrecemos servicios de evaluación de dislexia en Español e Inglés. Pónganse en contacto con nosotros en lap@tcnj.edu para más información sobre las pruebas de dislexia en Español.
______________________________________________________________________________________________________________
______________________________________________________________________________________________________________
______________________________________________________________________________________________________________